The Sufferings of Saphira Spanks!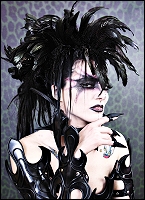 Bruises, sore muscles, clotted hair, watering eyes, torn eyelashes and mischievous comments...
The tortures applied by Verona Gummibaum to Saphira Spanks all have been worth the while. In cooperation with Art-in-Black, 4 unique series have been created for the "World of Witchcraft" project at FetishUnderground: "The Blood Elf", "The Night Elf", "The Sorceress" and "The Warrior".
And for those, who cannot get enough of it: there is much more to marvel at at myspace.